I have been working on projects in Unity since 2017 and love to learn and grow as an artist and programmer.
I make custom programs for streamers as well as mobile games and more.
With commands in chat, you can trigger custom pixel-art animations on your stream.
Base package comes with 3 animations, but can always add more.
Contact me if your interested in adding your stream.
Adds character to your stream
Base Program
Additional Animation
Button Control
This simple timer has great ascetics and isn't alarming when it notifies you your timer is up!
This easy to use program is available for purchase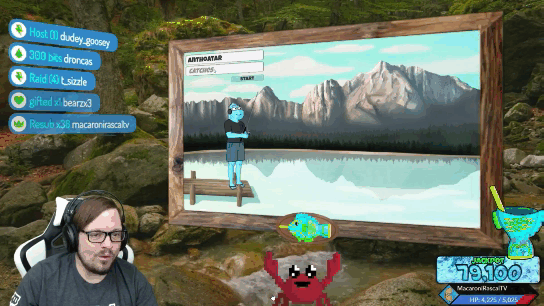 The Lake is used to reward Twitch chatters for subscriptions, donations and bits. Interacts with Twitch chat
This was designed specifically for a Twitch streamer and is not for resale.
A Thief has taken your treasure, you must squish him before he escapes!
​
This was my first mobile game and first game on Google play. I really enjoyed the challenge of making this and it is free on Google Play.
This mobile game is free to play on Google play. It is made for playing tabletop board games and keeping score. Editable Names.
With commands in chat, you can adjust/control points given to competing rewards. Crop screen capture to hide buttons
This was made specifically for using points as rewards for a particular streamer and is not for resale.
Graphically Beautiful Submarine game
​
This game is being developed for Google Play and is still in development.
​
Intended Release date: Feb 2021
This game is full of humor and inside jokes from the FederalGhosts Twitch Stream
This game is being developed for Windows PC.
​
Intended Release date: End of Pandemic
You can also directly contact me via email:
​